Who's who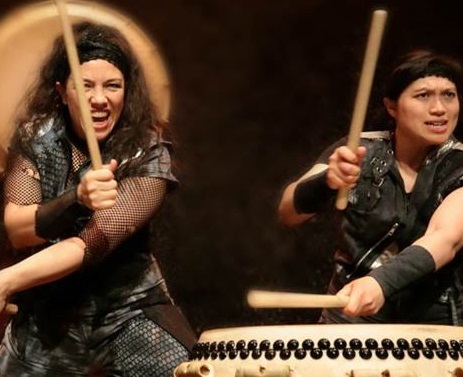 Mugen Taiko Performers
–
Members of Mugenkyo and the Mugen Taiko Dojo are delighted and honoured to join together to create a special performance for the Tsukimi Festival. Mugenkyo are Europe's longest established Taiko group, approaching their 25th year in 2019. Performances have included: the Brit Awards, BBC Proms, cup finals, the Generation Game, a Bollywood film, major festival appearances, performances for royalty, high profile film premieres & corporate events around the world, plus countless full-length concert tours at theatres all over the UK.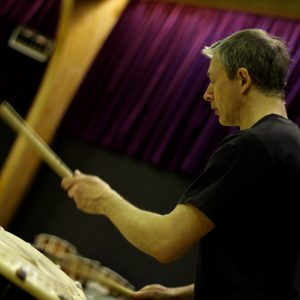 James Barrow
–
Workshop leader, performer
James is founder/leader or co-leader respectively of Taiko West and Taiko Wales. He is musical director of the WEM Taiko Festival and Midlands Taiko Day, and leads Taiko West Schools and Community Project, one of the largest Taiko education projects in the UK. James has been teaching Taiko full-time for over 20 years. On average, he teaches about 100 drumming workshops each year at schools and youth centres, community festivals and team building events. He started playing in Japan in the mid-80s. There he became the first, and still the only, UK citizen to hold an official license from a traditional Japanese Taiko Preservation Society (Hiroshima 1986 – 1990).  Read more…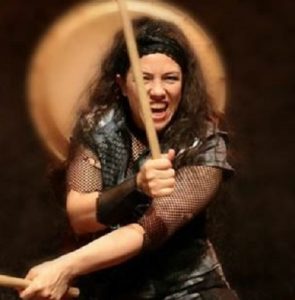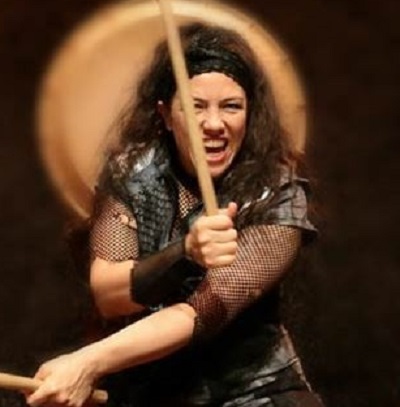 Miyuke Williams
–
Workshop leader, performer
A powerful player with incredible stamina, Miyuki expresses her joy of life through her playing and teaching. Co-founder of Mugenkyo, Miyuke trained in Japan under Masaaki Kurumaya Sensei between 1992 and 1994. With her Japanese mother and Welsh father, she spent her childhood in Indonesia, Malaysia, Spain, Japan and the USA. As a child, Miyuki studied classical piano and Nihon Buyo classical Japanese dance, influences that can be seen in her graceful and musical playing style. Her background also informs her songwriting, reflecting in the unique sound and style for which Mugenkyo is renowned. Miyuki is the head instructor at the Dojo, training all Mugenkyo players, past and present.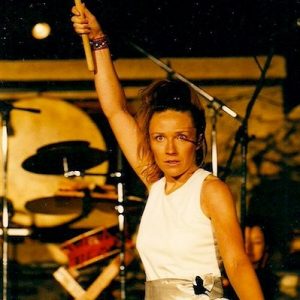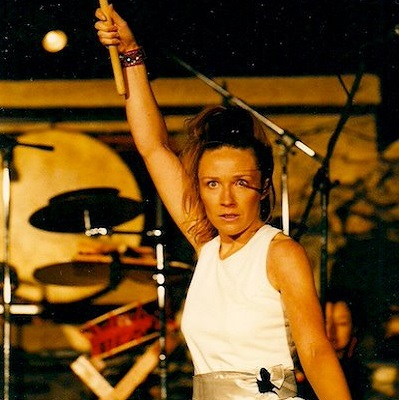 Liz Walters
–
Performer, workshop leader Tsukimi co-founder
Liz Walters is a leading exponent of the Hokuriku-style taught by Mugenkyo's teacher Masaaki Kurumaya Sensei. She founded Tamashii Daiko (an all-female group) nearly twenty years ago to perform this complex and demanding style. Her Tamashii School of Taiko primarily teaches the powerful playing and flowing movements characteristic of the Hokuriku-style. Liz is one of the first players of Taiko in the UK, performing, teaching and coaching across Europe and Worldwide for over 20 years. She completed her apprenticeship with Mugenkyo in 1996 and later performed with renowned artists including Joji Hirota, Pete Lockett and Guo Yue. In the early 2000's, Liz helped set up and co-facilitate an annual International Taiko Course at read more…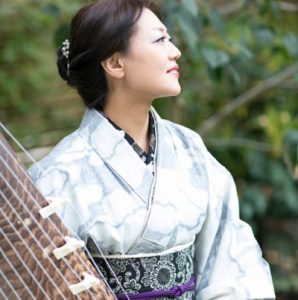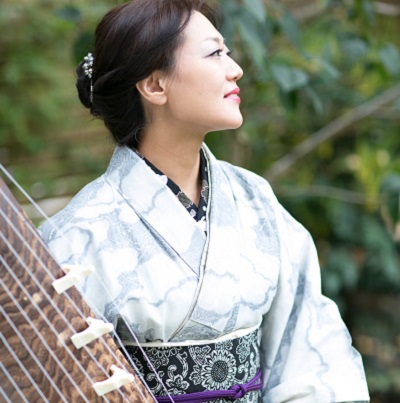 Keiko Kitamura
–
Performer
Keiko was born in Fukuyama, Hiroshima prefecture. Her early years were spent studying koto, shamisen and vocals under the tutelage of her aunt Kyoko Kitamura, an Ikuta-ryu grand master. She is based in the UK and has worked extensively with a variety of traditional Japanese and contemporary Western musicians. Highlight performances include London Olympic festival BT River of Music, Glastonbury Festival, Ronnie Scott's and BBC Radio 3. Keiko was an award winner for her koto composition at the Miyagi Michio Memorial Contest 2014. She is a member of SO-DO Academy of Music, led by Tomoko Sunazaki. www.keikokitamura.com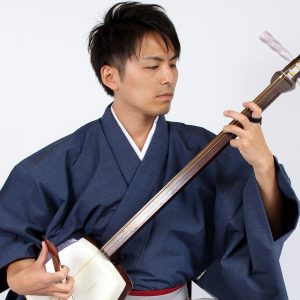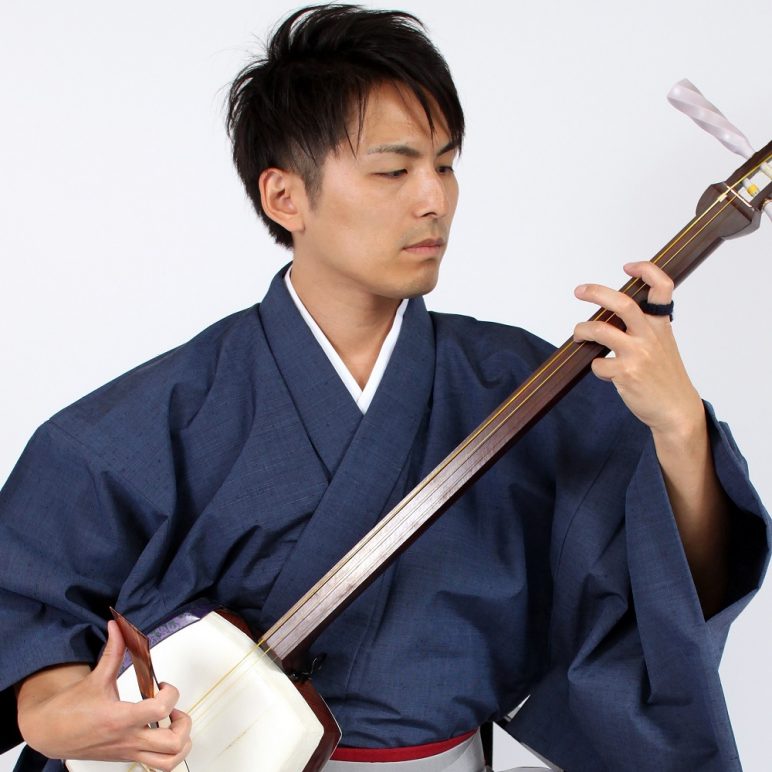 Hibiki Ichikawa
–
Performer
Hibiki Ichikawa is the only professional player of the tsugaru shamisen – a traditional Japanese three-stringed instrument – in the UK. In recognition of his great skill, he is qualified to perform in the UK under a "Tier 1 Exceptional Talent Visa", granted only to the most proficient artists. Hibiki performs regularly at festivals and formal occasions across the country. Appearances include the Japan Matsuri in Trafalgar Square, the Japanese Emperor's birthday celebrations at the Japanese Embassy, and a theatre production at the Edinburgh Festival. He composed and played for the soundtrack of the stop motion animated film Kubo and the Two Stringswww.hibikishamisen.com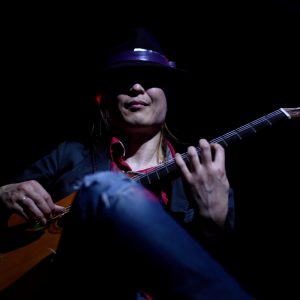 Hidè Takemoto
–
Hidè graduated from the prestigious Guildhall School of Music as a Bachelor of Music, gaining Postgraduate Diplomas in Music Performance and Composition in 2006 before started performing in the UK, Europe and Japan. Inspired by his guru, the great virtuoso and composer Keigo Fujii, Hidè's guitar technique can be traced back via José Luis Gonzaléz, Andrés Segovia, Miguel Llobet to the great Francisco Tárrega. Hidè's wide influences come from classical, rock, Indian, Spanish, Celtic and Japanese music, allowing him to collaborate with many musicians including Kuma Harada, Rie Fu, Hibiki Ichikawa and many more. Following his debut recording "Four Springs", Hidè performs at many gigs, festivals and is acquiring international recognition. www.hideguitar.com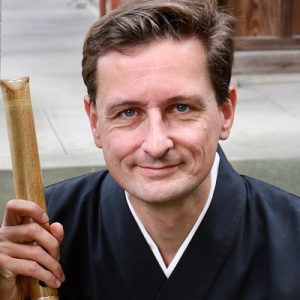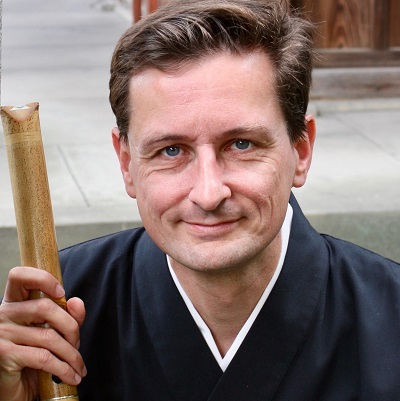 Markus Guhe – Markus has been performing with the Mugenkyo Taiko Drummers, Europe's only professional touring taiko group, since 2011, doing multiple tours each year and countless performances abroad. He was awarded a Shakuhachi shihan (master's license) in 2016 by the KSK (Kokusai Shakuhachi Kenshukan) and the prestigious, competitive KSK scholarship in 2017 to study with his teacher Kakizakai-sensei in Japan. While Markus focusses on Honkyoku (the classical Shakuhachi repertoire developed by mendicant Zen monks during the Meiji era), he is equally passionate about other Shakuhachi genres and constantly looks for new ways to combine Shakuhachi and taiko. In 2018 he released his first CD 'Samazama' featuring a mix of traditional Shakuhachi honkyoku and modern, self-composed music and created his first solo read more…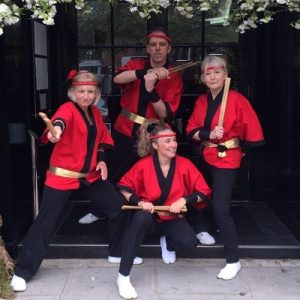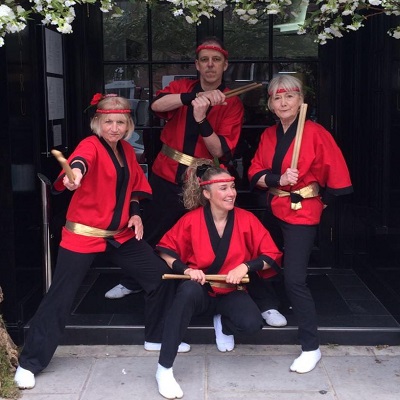 Tamashii Daiko – Tamashii Daiko Performers have touched the hearts of many people, showing that Taiko is not merely drumming, but an emotion experienced by the whole body and mind. Tamashii is a pure, raw manifestation from deep within the soul or spirit. It's an open and honest expression of the here and now. Founded by Liz Walters in 2000, the Group has performed at many private and public high-profile events around the UK including the Royal Festival Hall's Purcell Room and Westminster Abbey. Tamashii performs exciting, dynamically-choreographed, traditional and contemporary pieces using a variety of highly energetic Japanese rhythms. While maintaining intensity within tight rhythmic unison, players launch into their own unique and colourful solos. This combination of uniformity and the individual read more…
Wadaiko London
–
Wadaiko London Wadaiko London was established to promote and further the discipline of Taiko-Do, Japanese culture, music and performance arts, and to organise performances, workshops and other events, principally in London and the South East of England. Tsukimi is organised by Wadiko London co-founders Liz Walters (Tamashii Daiko/Tamashii School of Taiko-Do), Val Tate (Tamashii Daiko/Taiko Oxford) and Derek Sansom (Tamashii Daiko/East City Taiko).